If you are planning for a weekend party at your home, finger foods cannot be left out. One good recipe for your friends invited over, is the chicken quesadilla. Being delicious and eaten with ease, all ages love this. Your guests will not be able resist the taste of this chicken and pepper tortilla, mixed with the melted cheese and fajita seasoning. If you have made plenty of them for your party, you can simply freeze them. Reheat them anytime to relish a freshly cooked chicken quesadilla. Now what is the secret behind this mouthwatering recipe? Read along to know the recipe of this amazing snack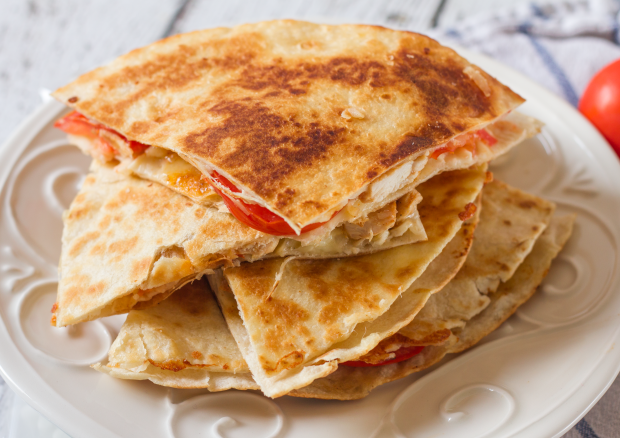 Chicken Quesadilla is very easy. All you need to prepare are:
1 pound diced chicken (preferably the breast part and make sure that are no bones in it)
1.27 ounce of fajita seasoning
1 tablespoon of canola oil
2 chopped green peppers
2 chopped red peppers
1 chopped onion
10 whole wheat tortillas
8 ounce of cheddar cheese (shredded)
1 tablespoon bacon
8 ounce shredded Monterey Jack cheese
To start with the cooking, you need to prepare the broiler and preheat it. Baking sheet is needed in this recipe. Make sure to grease it. Toss the one pound chicken with the 1.27 ounce of fajita seasoning and spread it evenly on the greased baking sheet.
Place it inside the broiler and wait for the chicken to turn into tender white meat (this may take up to 5 minutes).
Preheat your oven to 175 degrees C or 350 degrees F. While waiting for the oven to preheat, put the saucepan on a medium heat. Put some oil in the saucepan and allow it to heat.
Put the green pepper, red pepper, onions and the chicken.
Stir the mixture continually till the vegetables get soft (for about 10 minutes).
Take a tortilla and place chicken on one half and seasoned veggies on the other half. Fold it in and sprinkle on top, Cheddar and Jack cheese. When you finish stuffing all the tortillas, place it in the oven on the baking sheet for approximately 10 minutes or till the cheese is ready.
Have a great time in your party with this easy and quick finger snack.